To Higher Levels: SMOK RPM 25W Pod System Kit
August 23, 2022
SMOK RPM 25W Pod System Kit is one of the latest and most important products of SMOK brand, and vape online store also released this product on the website. It has refined styling and a zinc alloy body, most of which is wrapped in leather, giving the entire device a premium feel, like its slogan, to higher levels.
The SMOK RPM 25W Kit includes an integrated 900mAh battery with output ranging from 5W to 25W. The power that can be adjusted by a button can provide you with a customized electronic cigarette experience. The previous button activation has been replaced by a simpler and more direct suction activation. If you are still unable to adapt to the suction activation mode, you can also click the button to start. This professional and self-contained vaping device provides enough power and battery life for vapers.
The pod capacity of the SMOK RPM 25W Kit is 2ml, and the leak-proof design allows you to carry it out without any worries. The kit is equipped with LP1 Mesh 0.9ohm Coil, which can output smooth vapor steadily. In addition, you only need to rotate the cartridge 360 ​​degrees to adjust the airflow, ensuring that you can get a mellow taste and high-quality vapor anytime and anywhere when you smoke e-cigarettes.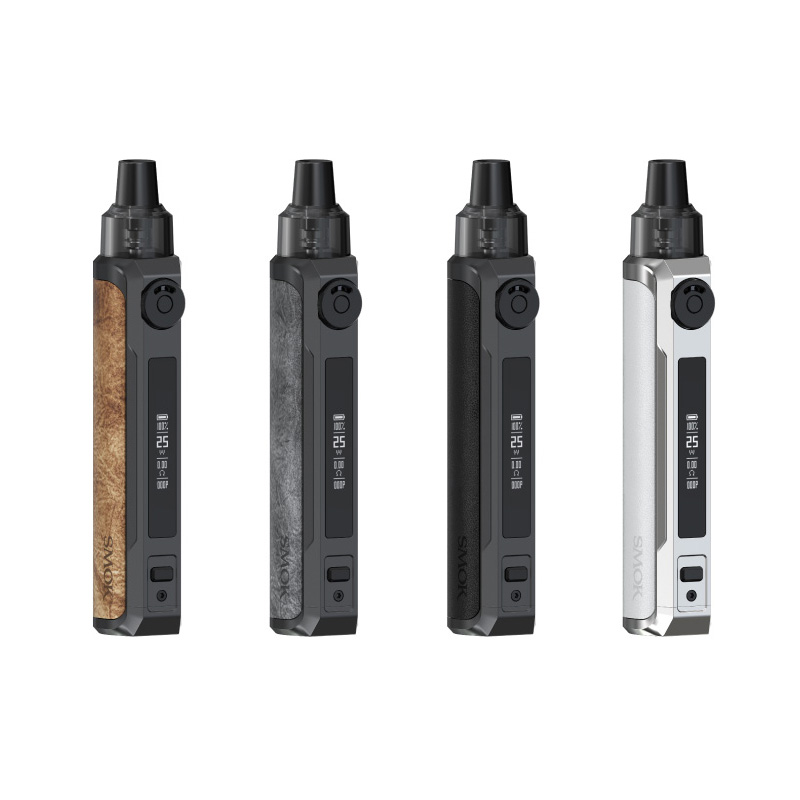 Specifications:
Dimensions: 20.5mm x 23.2mm x 110mm
Weight: 56g
Input Voltage :3.3V to 4.2V
Resistance Range: 0.6Ω to 2.5Ω
Output Voltage: 1.5V to 4.0V
Overcharge Current: 1.75A ±0.6A
Overcharge Voltage: 4.3V±0.05V
Over-discharge Voltage: 2.4V±0.05A
SMOK RPM 25W Pod Cartridge Capacity: 2ml
Colors: brown leather, grey leather, black leather, or beige white leather
Features:
Zinc-Alloy Chassis Construction
Draw-Activated Firing Mechanism
Single Adjustment Button
Magnetic Pod Connection
900mAh built-in battery
5W-25W power adjustment
0.69″ OLED Display Screen
Adjustable Airflow Control Ring
2mL Pod Capacity
Type-C USB Port
Press Fit Coil Installation
Bottom Fill System – Silicone Stoppered
Slender and compact in build
Recommended Products:
candy king
jam monster vape juice
Read More Related Articles: https://vapefr.uk/you-will-be-impressed-by-tugpod-evo/