Will Joyetech Evio Grip become the hottest pod kit?
August 15, 2023
Recently, the small-capacity pod kit has hit the market, which is as easy to carry as disposable cigarettes, but is more environmentally friendly and cheaper to use in the long run. For example, the latest Joyetech Evio Grip has gained a lot of attention with its excellent appearance design, powerful performance, and personalized use. Next, I will introduce this product in detail to show the charm of the small kit in a full range.
Excellent exterior design
Fashion is its first impression, ergonomics is its second impression. It's very lightweight, I like to wear it around my neck as a decoration, it's a highlight of my look, and very attractive. The bold illustrations are hidden under the frosted shell, adding a mysterious color, and the internal structure is looming, not so impactful a punk feeling.
Five colors are available, breaking through the stereotype of the appearance of cigarettes, which is not only a mature and stable choice, but also the most popular trend at present.
Powerful performance
The strongest technology of this product is the EN mesh coil, which is provided by EVIO Grip with a delicate, pure taste that ensures consistency and sweetness until the last sip of juice.
Every EVIO Grip Empty Pod Cartridge is quality tested before leaving the factory to avoid leakage, which is common in cigarette sets. The delicious liquid is added from the side, and the capacity is about 2.8ml, which is the best solution after trial and error.
The 1000mAh battery capacity, easy battery life, no need to frequent charging, the maximum 20W output, easy to emit a huge cloud, such an experience is the original fun of electronic cigarettes.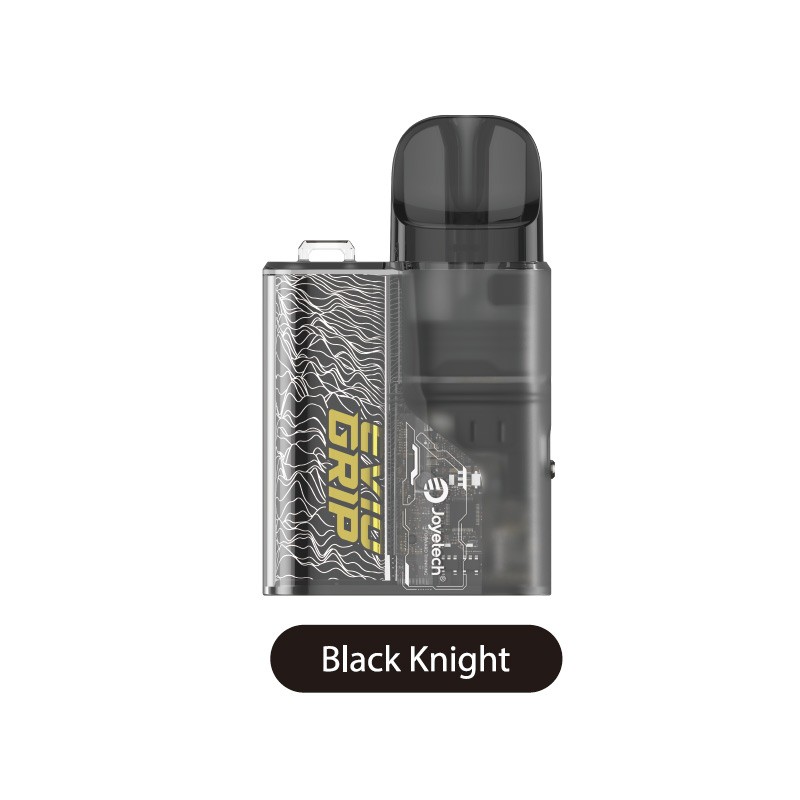 User-friendly use
Not only can you replace the Pod Cartridge, but the coil inside is also fitted with three models, 0.6ohm mesh coil, 0.8ohm, and 1.2ohm, from tight to loose, so you can customize your vaping experience to suit your preferences, whether you're a first-time vaping user or a seasoned vaping player. It's all fun and games.
The side of the product has an airflow control valve, loose or tight, according to your habits easily adjusted.
In the intimate battery power display, the green light represents sufficient power, the blue light represents 20%-60% of the power, and the red light is low power mode and needs to charge as soon as possible.
In a market flooded with e-cigarette devices, the Joyetech EVIO Grip Pod Kit 1000mAh 20W stands out through its blend of style, performance, and user-friendly features. It combines the trend of future development, if you are also looking for a new and unique experience, I think this is a choice worth trying and will be one of the hottest cigarette sets in the second half of 2023.