What About The Stylish SMOK RPM 5 & RPM 5 Pro Kit?
June 22, 2022
Hot Sale SMOK RPM 5 & RPM 5 Pro Kit is a very fashionable and hot-selling e-cigarette that features a high-grade leather design, feels very comfortable and smooth, and has an atmospheric appearance, which will definitely attract your attention.

Launched two models at the same time, PRM 5 and PRM 5 Pro Pod Mod Kit. They have similarities and differences. The RPM 5 is powered by a large built-in 2000mAh battery, which not only ensures the longevity of the product but also allows you to reduce the number of recharges. The RPM 5 Pro is powered by an external single 18650 battery. Through the battery cap at the bottom, you can easily lift the bottom cover to take out the battery or install the battery.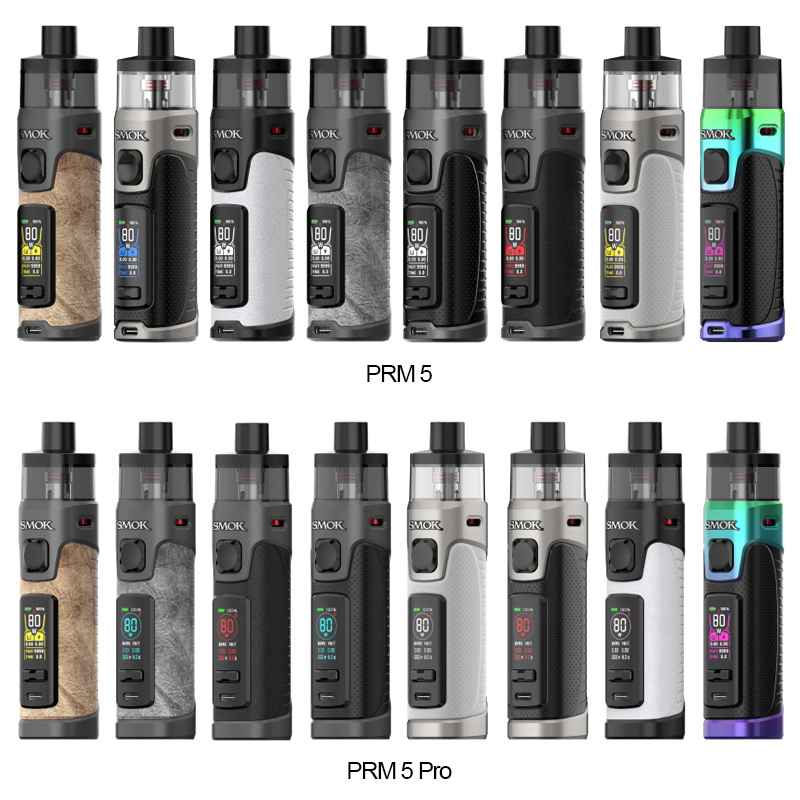 Although the battery capacity is different, their variable power is in the 5-80W range.
The device is equipped with an air switch, with which you can control the flow of air for optimal inhalation. Of course, the air inlet on the side can also bring fresher air.
SMOK RPM 5 Empty Pod comes with a capacity of 6.5ml and a Child-resistant design, keeping children out of danger. The slide-to-open filling is not only leak-proof but also more convenient for you to refill.
Equipped with a larger 0.96″ TFT screen, which not only displays data but can also switch the interface or change the power through the up and down keys.
Featuring short-circuits protection, pod protection, an eight-second cut-off, and a low-voltage warning to ensure your safety during use.
Aside from the difference in battery capacity, their weights are also different, the RPM 5 Kit weighs 122.7g, and the RPM 5 Pro Kit weighs 100.7g. Although there are some differences in weight, it does not affect your carrying. No matter which one is suitable for going out, it is the same light weight in your hand.
An excellent product can always convince users with its strength, which is also an important reason why it is very popular.
If you are interested in more, please visit vape online uk.