Tasty and Long-lasting: Horizon Binaries Cabin Disposable Vape
August 12, 2022
Horizon Binaries Cabin Disposable Vape is being recognized by more people at vape store, it is the first disposable cigarette with double mesh coil system in the field of electronic cigarette. The device is equipped with a rechargeable 650mAh battery, which can be charged quickly and efficiently using Type-C, and the number of puffs can be up to 10,000 times, surpassing 80% of e-cigarettes on the market today.
The Horizon Tech Binaries Cabin Disposable Vape Kit has an extra-large 20ml e-juice reservoir containing 2% nicotine salts. This capacity is amazing, so it can provide a super-large number of vape suction ports. You can choose your favorite flavor among 21 delicious flavors, and the double coil system can show your favorite flavor perfectly and smoothly through the steam cloud.
The shell of Horizon Binaries Cabin is made of leather, and a sling can be installed on the top for easy carrying. Not only can you hold it in your hand, but you can also hang it around your neck, wrap it around your wrist, or tie it to a backpack, just choose whichever way is most convenient for you. The adjustable airflow is suitable for MTL Vaping and DL Vaping, more evenly, effectively and quickly to meet your vaping desires and requirements.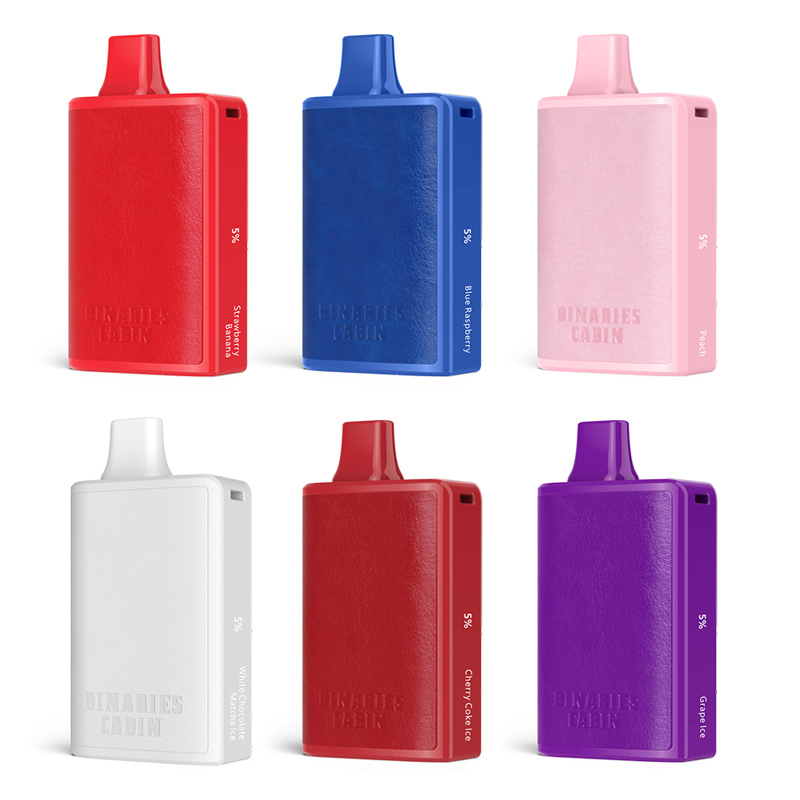 Flavors:
Banana: Creamy, naturally sweet, and tasty banana
Vanilla Lemon Tart: Lemon Tart with Madagascar vanilla bean butter biscuit
Mango Ice: An iced candy mango vape flavor
Strawberry: Fresh and tasty strawberries
Mango Lychee Ice: Frosty tropical mango lychee and menthol
Orange: A perfectly ripe orange
Lush Ice: A combination of watermelon and icy menthol
Pina Colada: The Pina Colada flavor of coconut and pineapple
Blue Raspberry: A blend of blueberry, raspberry, and sweet & tart candy-like flavors
Cherry Coke: Fizzy Cherry Cola
Pink Lemonade Ice: Tart and slightly sweet
Grape Ice: Fruity juicy grape
Peach: Soft, ripe peaches
Lychee Ice: lychees and menthol
Watermelon Raspberry Ice: Raspberry fruit and watermelon
Peanut Butter Chocolate: Smooth creamy peanut butter compliments the rich chocolate
Green Grape Apple Ice: Juicy grape and crisp green apple
Strawberry Banana: Ripeness of strawberry and the sweet, crepe-like tropical banana
Guava Ice: A blend of juicy Guava and icy menthol
White Chocolate Matcha Ice: Sweet, creamy white chocolate matches with bitter matcha
Recommended Products:
candy king e liquid
jam monster e liquid
Read More Related Articles: http://vapefr.uk/elf-bar-airo-max-disposable-is-a-must-try-vape/