Antiqued Style: Uwell Sculptor Pod Kit
November 18, 2022
If you are a retro and vintage lover, I recommend you to check out this pod vape kit from Uwell Vape. The shape of the Sculptor is like a shield of the last century. Although it is also the flat shape that pod kits like to adopt, it is obvious that it cleverly solves the shortcomings of this model in this way. Just looking at it, you will also feel that this is a heavy vaping device, and in fact it is.
If you want to buy a Sculptor Kit at the best price, vape supplies online has the deal for you. The entire body of the Sculptor is made of aluminum alloy metal, and its shell is deliberately distressed. Not only is it very resistant to falling, even after being exposed to wind, sun or certain damage, you will not feel any sense of disobedience from its appearance. This is the biggest advantage of the vintage style, the older the better. A huge retro pattern is engraved in metal on the front, which is very iconic, and the Sculptor logo is printed below, which is more like a perfect work of art overall.
Uwell Sculptor provides you with an adjustable power range of 5-11W, allowing you to freely choose the most suitable mode for you. The Sculptor is mostly side-filled, and the mesh coils do their best to heat up those rich flavored liquids to give you a rich, delicious steam. You can't find the screen and buttons on the whole device, so there will be no complicated operations at all, and you can use the Sculptor just by sucking directly. Believe that this smooth MTL Vaping will satisfy you.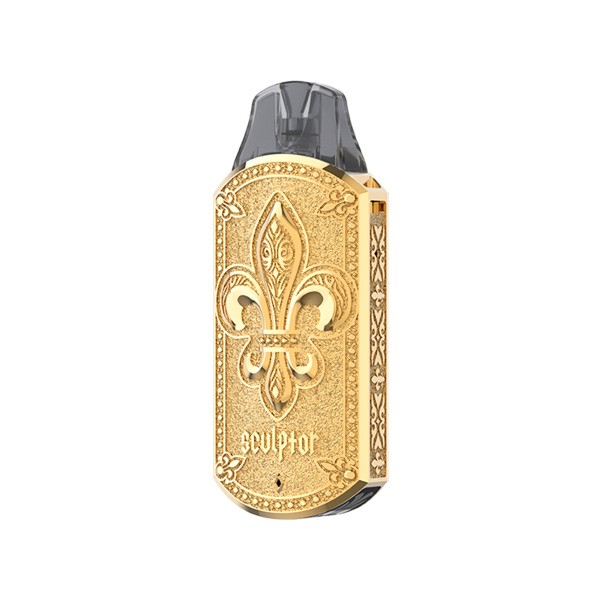 Specifications:
Dimensions: 7.72.21.4mm
Weight: 47g
Battery: 370mAh
Pod Capacity: 1.6ml
Resistance: 1.2ohm
Output Power: 11 W
Coil Types: Mesh
Charging: USB Type-C
Features:
Draw-To-Vape Activation
Pro-FOCS Flavor Adjustment Technology
Security Safeguards
Metal Embossment Shell Embodies Power And Artistry
Built-In 370mAh Battery
Recommended Products:
geekvape l200 classic
kk vape 8000 puffs
Read More Related Articles: https://www.bestvaping.ca/blow-your-mind-mr-fog-switch-5500/